This Promise Makes All the Difference
At Sunrise at East 56th, we promise that your happiness, your well-being, and your satisfaction are the sole focus of each and every one of our team members. You are the reason we offer the finer care in life, and we promise to deliver it for you every day at Sunrise at East 56th.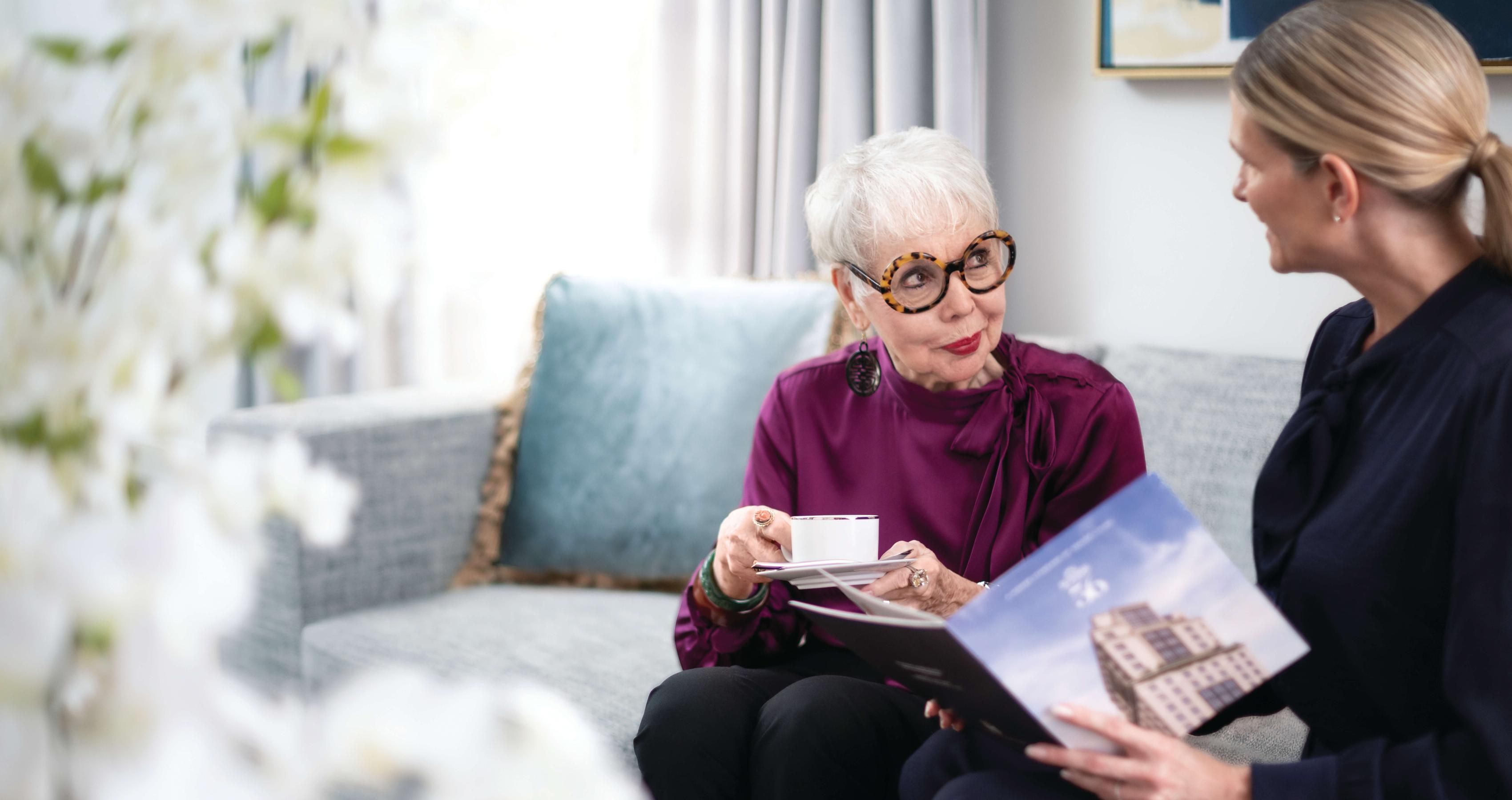 Principles of Service
To make sure we deliver on our promise at Sunrise at East 56th, we've developed a set of principles to guide us. These touch on every aspect of how we serve our residents, and embody the philosophy behind the standard of living we provide.
Preserving Dignity.

Every Sunrise at East 56th resident has their own unique dignity. As such, they receive the respect they deserve every day.

Celebrating Individuality.

There is an incredible, engaging life story behind each of our residents at Sunrise at East 56th. And we want to hear it and understand it and help add to it.

Nurturing the Spirit.

We take a holistic approach here, not focusing on just one need at a time, but always taking into consideration how each need affects the whole. The entire person is always cared for: mind, body, and spirit.

Enabling Freedom of Choice.

The residents at Sunrise at East 56th have a special connection to New York City. And it's our mission to help them continue to do everything they love in the city they love.

Encouraging Independence.

We know the importance of being self-reliant, so we actively promote it for our residents in ways that take into consideration their unique needs.

Involving Family and Friends.

Fostering a welcoming atmosphere and keeping residents safely connected to family, friends, and community are top priorities here at Sunrise at East 56th.
Your Team
Tom Cana

General Manager

Beginning as a volunteer more than a decade ago, Tom has worked in many departments at Sunrise. Now, as General Manager, he credits his experience with giving him the unique insight he brings to Sunrise at East 56th. What drives him is championing the quality of care for residents while creating a community authentic to Manhattan, a community that residents feel at home in. He considers everyone at Sunrise at East 56th a member of his extended family, and works to ensure every team member treasures the relationships they have with the residents. A lifelong Yankees and Giants fan, he loves discussing the highs and lows of New York sports.

Jim Santana

Executive Chef

Jim brings more than 25 years of experience in the culinary industry to Sunrise at East 56th, and has spent the last 15 years specializing in creating healthful menus for seniors. Jim graduated from the Culinary Institute of America, and his career highlights include serving as Pastry Chef at Café Luxembourg, catering movie premieres and prestigious functions at diverse locations (including FAO Schwarz), and being featured in The New York Times. Chef Santana's menus will be driven by resident preferences, while taking into account the health-and-wellness needs of seniors—with his goal, ultimately, being to provide one of the most elevated dining experiences in the city, exclusively for our residents.

Oscar Argueta

Resident Services Director

Oscar is a service-oriented team member who began his career at five-star hotels experiencing what defines true service and excellence. With over 20 years of service in luxury hospitality, he completed the Waldorf Astoria Management Development Program and continued his career with Hilton and Marriott in New York City, Fisher Island in Florida, and The Delamar in Greenwich, Connecticut. As Resident Services Director at Sunrise at East 56th, Oscar's goal is to bring into practice what he has learned, make special connections with people, and coordinate individualized services for our residents. Oscar loves running and walking in Central Park and experiencing the diverse, exotic foods of NYC.




Alyssa Friedman,LCSW

Program Director

As Program Director, Alyssa is responsible for providing overall leadership and management of Live With Purpose™ programming at Sunrise at East 56th. Alyssa has a Masters Degree in Social Work from NYU, and brings her clinical expertise in psychotherapy and Geriatric Care Management to her position. In her private practice, she enjoyed working with seniors to provide individualized support and assistance during times of change and transition. As a fellow New York City resident, she is eager honored to be a part of the team here at East 56th St. and looks forward to developing deep, meaningful relationships with and stellar programming for residents and their families.
Take a Tour. Reserve a Residence.
Sunrise at East 56th is now open. Fill out the form below and we'll contact you to schedule a tour.
Thank you!
Someone will be in touch with you shortly.
Error!
Please check the following errors.
Inquire