Planning Your Move
When getting ready to move into a senior living community, there are many important considerations to take into account as you plan to personalize your new home.
Personalizing Your Space
Moving into a new home is an exciting chance to start fresh and make your space uniquely yours. There are a number of things to keep in mind when downsizing and setting up your new home to be as comfortable and stylish as possible.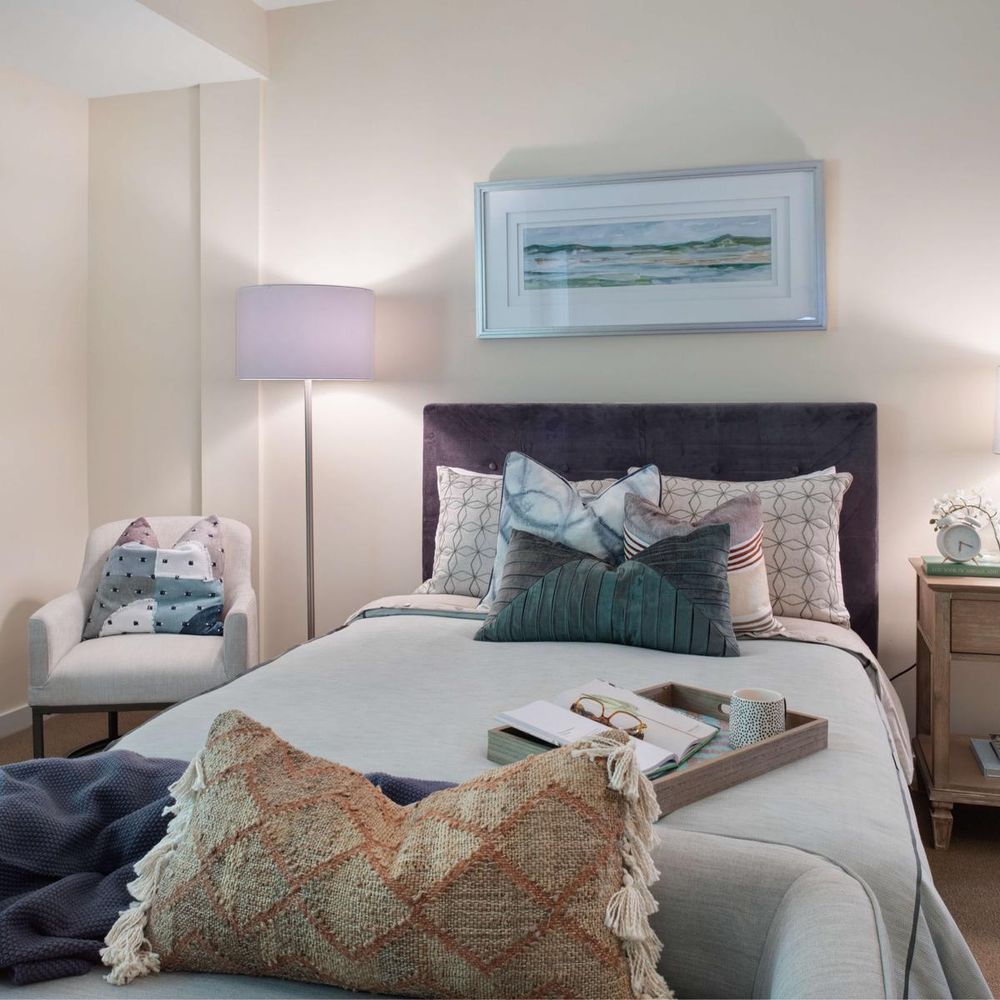 Tips for Downsizing
Over time, we all accumulate furniture, clothing, personal items, and a wide variety of things we don't use or need anymore. The moving process is a wonderful opportunity to identify the pieces to keep—and what can be offered to friends and family or donated to charity. With less stuff to worry about, you're free to enjoy every new moment more fully.
DO
Determine what matters most. Create a list of things that are important to you, keeping in mind you're likely moving into a smaller space.
Get the specifics on the size and layout of the new home. Plan to bring only those items that will fit comfortably.
Create a must-have list tailored to favorite daily activities. For example, avid readers may want to include bookshelves.
Get creative. Recreate the look of a previous home with fewer pieces, such as a loveseat instead of the entire sofa set and chair.
DON'T
Make packing decisions alone. Enlist someone who's less emotionally attached to items that might not fit or be useful in a smaller home.
Leave your loved one out of the process. If you're helping a senior move to a new community, empower them to make as many decisions as possible.
Spend money on all new accessories. Family photos, art, blankets, and other familiar mementos have the power to make a new space feel like home.
Expert Design Tips
Here are some helpful design tips from the Sunrise Design Team.
We love a good storage solution, especially when it's disguised as a chic piece of furniture. Downsizing doesn't have to mean clutter everywhere. Use ottomans as extra seating or as a coffee table. You could even put one at the foot of the bed for extra storage. These pieces can solve many issues while still looking good.
For your bedding, get a variety of textures to make it really warm and inviting. Adding a throw to the end of the bed helps balance the pillows at the top, and bringing in cashmere or faux fur or cable knit adds a lot of texture and makes your bed even more appealing. Also consider using an upholstered headboard, keeping it soft for easy reading and sleeping. There are so many inexpensive, yet elegant, options out there that are so much more interesting than a wood or iron headboard. Making your own headboard is another possibility, as there are plenty of online step-by-step instructions. You can create a simple headboard by building a frame, adding padding, stretching upholstery fabric over it, and stapling it in the back. While headboards do take a good amount of time to make, the result can transform a bedroom, making it much more comfortable and inviting.
By putting sconces near the bed, you are able to free up nightstand space and avoid late night fumbling for the switch, as well as making it convenient to easily turn off lights before sleep. Stick with paper or fabric shades to avoid harsh direct light that could create a glare, and make sure you hang below the eye-line when laying down. You'll also want to make sure you tuck away any cords to avoid a tripping hazard.
To help with low vision, the walls, floor, and toilet seat should all contrast. The towel holders should also contrast with the walls.
Adding plants (or faux plants) infuses a room with vibrancy. Real plants add color and sculptural shape, while filtering the air and freshening up a space. Ferns, snake plants, peace lilies, and money trees are all easy to maintain indoors. If maintenance is a turnoff, you can opt for high quality silk plants.
Trays are the accessory that we just can't live without: They just make life look and feel more organized. They work everywhere—on your nightstand for jewelry, water glasses, and pill bottles; on your dresser for your jewelry box or a vase of flowers; or on a console to help organize various accessories. You can even place them on soft furniture, such as a footstool, to create another table. Trays help keep the room looking less busy and more cohesive.
Sofas are arguably the most important piece of furniture, so they need to be functional and stylish. First rule: be sure not to choose sofas and chairs that are super low and deep. Yes, we may think of these as comfy and cozy, but they can easily swallow you up and be hard to get in and out of. Also, think of sturdy, well-proportioned upholstered arms, so they are something one can really lean on—nothing wooden or too flimsy.
We recommend a dining table with shelves for extra storage space and drop-leaf sides that provide flexibility, as long as it provides enough leg room. They're traditional, yet totally modern. They even provide storage for placemats and other table linens.
Here's your chance to bring in a lot of your family memories—this is what will make your new space truly your home. Blow up and frame large photos of you and your family. Stay away from a ton of little frames (3x5'' or 4x6''), instead opt for larger frames to prevent the wall from feeling too busy in a small space. You can choose a couple of different colors for frames—maybe white and natural wood, black and silver, or, if you want a more modern and conservative look, get all the same color frames and arrange them in a grid. A gallery in a box is the easiest way to create such a look. All the frames and mattes come in one box and you simply have to insert the pictures. In addition to two-dimensional wall art, shadow box frames allow you to display your mementos on the wall. Since wall space is more plentiful than tabletop space, this is a great way to keep your favorite accessories on display. Collectibles such as teacups, antique keys, or small figurines make for eye-catching shadow boxes. You can get ready-made shadow boxes at frame stores or have your items professionally framed. Downsizing is a good time to go through your mementos and pass some down to your friends and family, only keeping your favorites to display in your space. Shadow boxes filled with objects look great combined with two-dimensional art or as a collection.
Start with your favorite colors—cheery blues, greens, and warm beiges are great go-to colors. These cooler tones make one feel more calm and serene, and the beiges add warmth to the space. Try to avoid going too 'baby' or pastel, instead choosing colors that have more gray tones. Did you know that aging eyes cannot distinguish between blues and greens? Only use these colors as accents against a primarily red or gold palette.
Moving into a Sunrise Community
At Sunrise, we do everything we can to ease residents into their new home, and a big part of this is creating a space that is comfortable and feels like home. We encourage our residents to express their style in their new suite by bringing their own furniture and decorating every square inch—right down to the paint color.
Read more tips on how to personalize your space.