What Is Memory Care?
Memory care communities provide an engaging and secure environment for those living with Alzheimer's and other forms of dementia.

Specialized Care for Memory Loss
It can be challenging for family members to care for loved ones experiencing memory loss. In a memory care community, residents receive personalized, quality care from highly trained team members. They benefit from an intimate, secure environment where their needs are met around the clock. With enriching, small-group programming and nutritious meals tailored to their dietary needs and preferences, memory care residents have the chance to enjoy more meaningful days.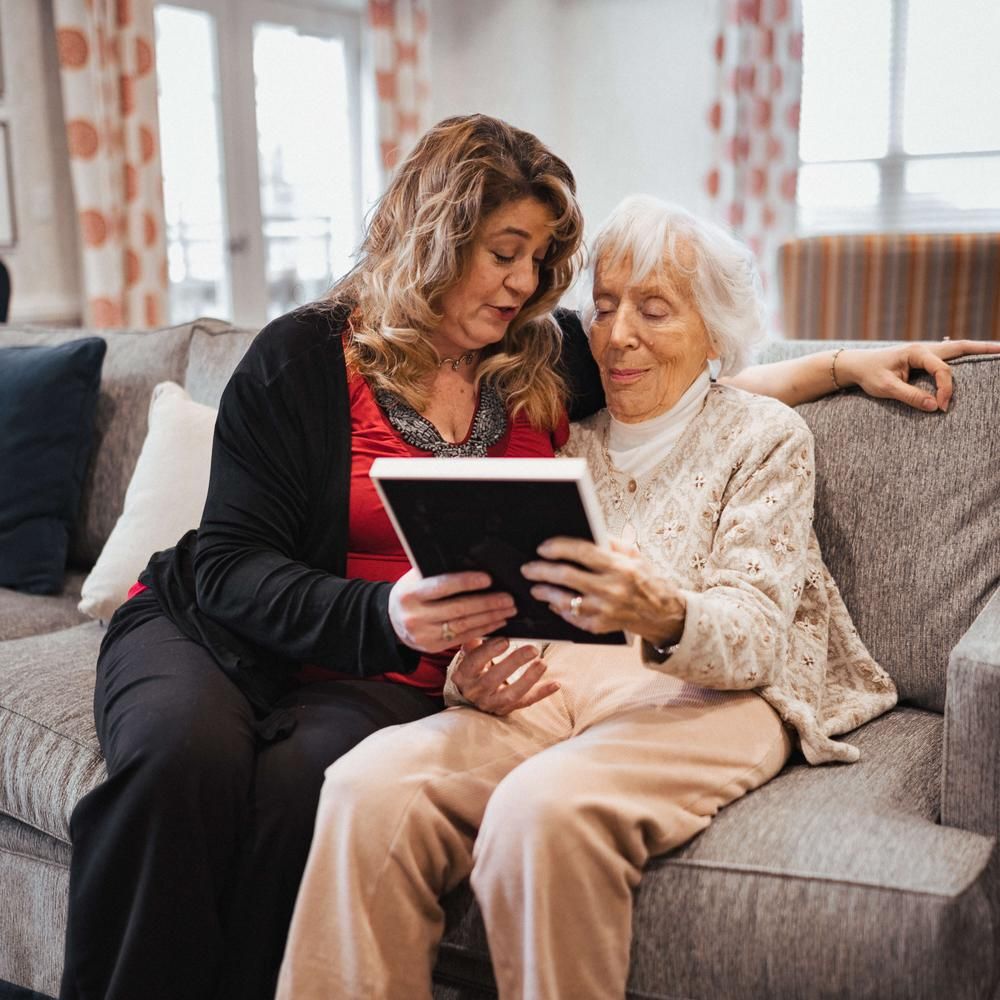 Frequently Asked Questions About Memory Care
We'll answer common questions about how memory care works.
Memory care serves the long-term needs of those experiencing memory loss. Residents benefit from a nurturing, engaging, and secure environment where they receive quality care from caregivers trained in supporting those with Alzheimer's and other forms of dementia and memory loss. Memory care communities also provide enriching programs and nutritious meals to help residents enjoy their time and focus on their well-being.
While both assisted living and memory care provide personalized support with things like bathing, dressing, and medication management, memory care communities provide expert, specialized care for those living with Alzheimer's, dementia, and other forms of memory loss. The caregivers in memory care settings have been trained in memory care techniques and support.
Nursing home residents typically have more complex medical needs than those living in memory care. In a nursing home, skilled nurses are available 24-hours a day, and occupational and physical therapists are usually on staff.
At Sunrise, our memory care services are the same as dementia care. Our Reminiscence program provides care for those living with moderate to severe memory loss due to Alzheimer's or other dementias.
In addition to individualized support with daily living activities like dressing, bathing, grooming, and medication management, memory care communities offer specialized activities, socialization opportunities, fresh meals, and support with dining as needed.
Adults living with Alzheimer's or other forms of dementia do their best when given individualized attention and the opportunity to socialize in one-on-one or in small groups. Memory care communities offer programming that helps residents stay engaged and connect with who they are.
Memory care residents sometimes need extra support during meals, which can include eating texture-modified foods. Dining teams at memory care communities have the ability to create flavorful, healthy meals that are tailored to each resident's unique needs and preferences. Learn more about dining at Sunrise.
Yes, family members of those living with memory loss can rest easy knowing that their loved one is being cared for by caregivers who have been educated and trained on Alzheimer's and other forms of dementia. Sunrise team members are trained in the Validation method, which helps them to meet residents in their own reality while reducing anxiety and improving self-worth.
The Validation method is a method of communicating and meeting residents in their own reality. This approach seeks to help restore a sense of self-worth, reduce anxiety, enhance dignity, and increase overall well-being. Validation is built on an empathetic attitude and a holistic view of each resident. Sunrise is an Authorized Validation Organization.
Memory care communities are specially designed for older adults with memory loss. At Sunrise, in addition to emergency call response systems and secure entrances/exits, residents will often find smaller, easy-to-navigate areas that help them find their way. We also make sure the furniture, decor, lighting, and carpeting are carefully chosen to foster a warm and relaxed environment.
Our Reminiscence program is specially designed for people living with Alzheimer's and other forms of dementia and memory loss. These neighborhoods are engaging and secure areas that are purposely designed to encourage social engagement, meaning, and purpose. Our memory care services feature separate areas, memory-focused activities led by life enrichment managers who are trained in memory care techniques such as the Validation method and other special memory care techniques. Several of our communities also offer Terrace Club, a specialized neighborhood for those experiencing early to moderate memory loss.
Find a Memory Care Community Near You
Sunrise memory care communities provide a variety of services to help residents thrive.
Are you looking for memory care?
If you'd like to learn more about memory care at a Sunrise community near you, fill out the form and one of our senior living experts will be in touch within 24 hours.