Prioritizing Healthy Communities
Sunrise Senior Living fosters safe and healthy communities to benefit our residents and team members as well as maintains our commitment to environmental stewardship, efficient energy management, and sustainable operations.

Energy Star Certified Communities
Sunrise has achieved the Environmental Protection Agency (EPA) ENERGY STAR award in the senior care facilities category for 48 Sunrise communities and continues to pursue these high standards for more in its portfolio. The ENERGY STAR certification signifies that these buildings perform in the top 25 percent of similar buildings nationwide for energy efficiency and meet strict performance levels set by the EPA. These communities use an average of 35 percent less energy and release 35 percent less carbon dioxide than typical communities.
To earn the EPA's ENERGY STAR award, Sunrise focuses on best practices for efficiency in kitchen and laundry operations, lighting, and HVAC&R (Heating Ventilation Air Conditioning and Refrigeration). All communities have a comprehensive maintenance program in place to maintain equipment and conserve energy costs. In addition, team members implement energy-efficient best practices in their daily routines to further conserve costs and energy consumption, which can also be done at home.
Best Practices to Conserve Energy at Home
Utilize natural sunlight and install energy-saving, LED light bulbs
Turn off lights and unplug electronics and appliances when not in use
Install a smart thermostat
Adjust exterior lighting timers or use solar powered exterior lighting
Close refrigerator doors and ice boxes
Fill laundry and dishwasher completely before cleaning
Minimize drying times and regularly clean dryer ducts and lint screens
Apply weather strips to windows and doors
Use less hot water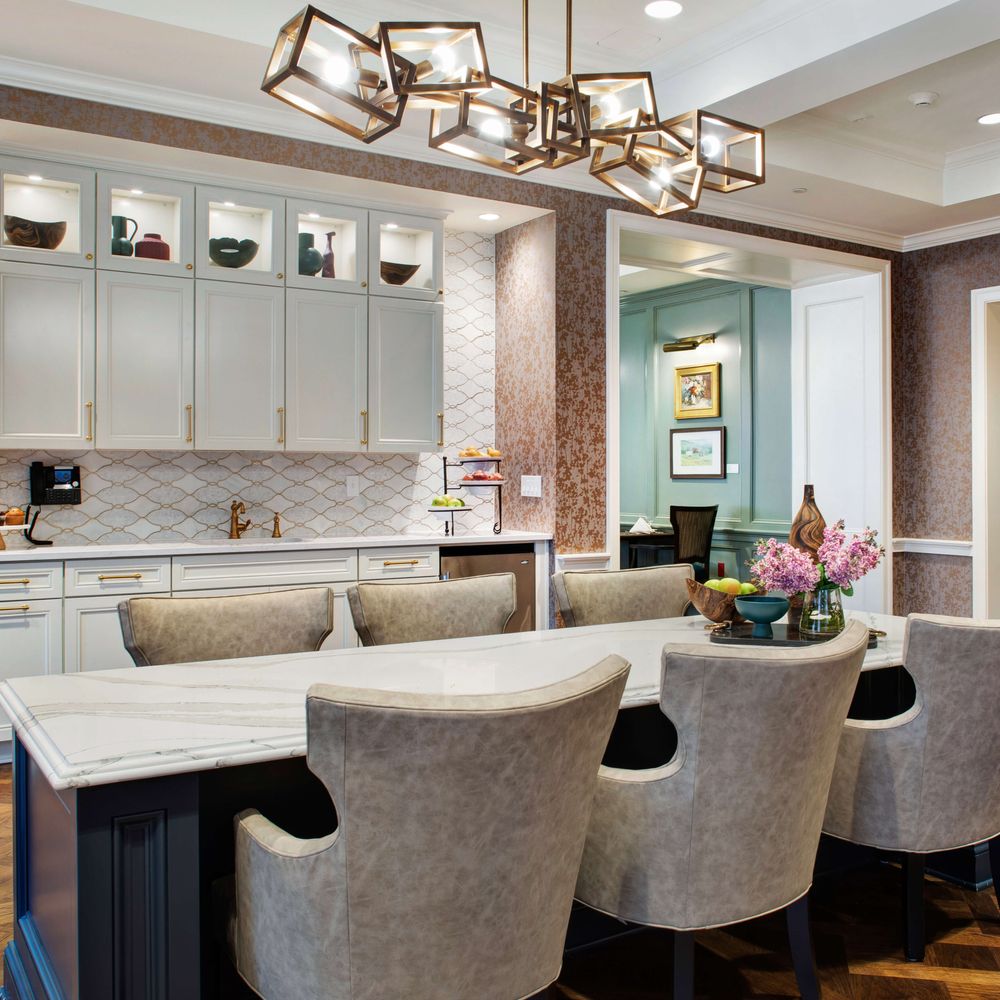 LEED Certification
Sunrise of Huntington, Sunrise of Old Town, and Sunrise at East 56th recently received LEED (Leadership in Energy and Environmental Design) certifications. While these represent three of our newest communities, we are continuing to innovate throughout the portfolio. We are responsibly designing and supporting our communities to support the health of residents and team members, as well as sustainably operating our buildings with a thoughtful maintenance program.
The LEED program represents the efforts of a coalition including the US Green Building Council (GBC) to establish a nationwide standard for constructing so-called "green" buildings. Obtaining LEED certification requires compliance with a minimum number of criteria affecting many aspects of a project, from site selection to the recycled content of building materials. LEED is the most widely used green building rating system in the world, and provides a framework for healthy, highly efficient, and cost-saving green buildings.
WELL Building Certification
WELL Building Standard (WELL) is the leading tool for advancing health and well-being in buildings globally. Developed over the course of 10 years and backed with scientific research, it creates and certifies spaces that advance human health and well-being, including physical and mental health across 10 core concepts, design interventions, and operational protocols. WELL is a performance-based certification system based on seven categories of building performance: Air, Water, Light, Nourishment, Fitness, Comfort and Mind.
Sunrise at East 56th holds a Silver level WELL Building Certification, which is the leading tool for health and well-being in buildings and communities globally by the IWBI (International Well Building Institute). In response to the COVID-19 pandemic, the building underwent an additional certification, the WELL Health-Safety Rating—an evidence-based third-party designation to verify that a building has taken the necessary steps to prioritize the health and safety of their residents, staff, and visitors.
Sunrise at East 56th is the only senior living building in the world to receive all three certifications, setting a new standard for senior living communities globally.
Energy Star Certified Communities List
Sunrise at Sterling Canyon
Sunrise at Orchard
Sunrise of Mission Viejo
Sunrise at La Costa
Sunrise of Bloomingdale
Sunrise at Alta Loma
Sunrise at University Park
Sunrise of San Mateo
Sunrise of Bellevue
Sunrise of Walnut Creek
Sunrise at Canyon Crest
Sunrise of Park Ridge
Sunrise of Cuyahoga Falls
Sunrise at Pinehurst
Sunrise of Boulder
Sunrise of La Palma
Sunrise of Sacramento
Sunrise of Huntington Beach
Sunrise of Yorba Linda
Sunrise of Woodland Hills
Sunrise of Westlake Village
Sunrise on Hillcrest
Sunrise of Staten Island
Sunrise of Golden Valley

Sunrise of Chandler
Sunrise of Rocklin
Sunrise of Palo Alto
Sunrise of Fort Worth
Sunrise of Fullerton
Sunrise at River Road
Sunrise at Holladay
Sunrise of Gilbert
Sunrise of Scottsdale
Sunrise at Siegen
Sunrise of Burlingame
Sunrise at Palos Verdes
Sunrise of Pleasanton
Sunrise of Erin Mills
Sunrise of Unionville
Sunrise of Mississauga
Sunrise of Burlington
Sunrise of Oakville
Sunrise of Richmond Hill
Sunrise of Lynn Valley
Sunrise of Windsor
Sunrise of Aurora
Sunrise of Vancouver
Sunrise of Issaquah