Planning the Move
When the time comes to transition into senior living, there are a lot of factors to consider—from the logistics of the move to wondering what your loved one should bring. Read on to learn about preparing for a move.
Personalizing the Space
Sunrise Senior Living communities are expertly designed to help your loved one maintain their independence. From beautifully appointed common areas to spacious suites they can personalize, they will find your new home at Sunrise comfortable and stylish. We encourage our residents to fill their new home with their own furniture, artwork, decorations, and, of course, treasured keepsakes.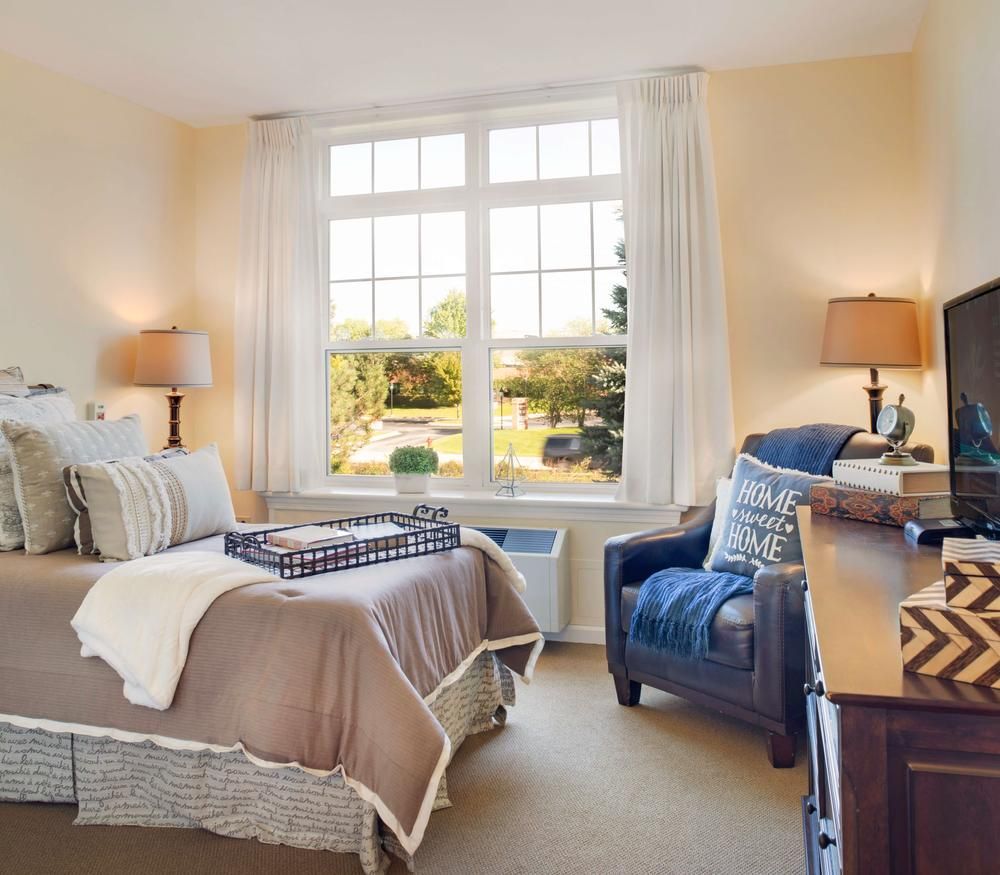 Preparing for the Move
Over time, we all accumulate furniture, clothing, personal items, and a wide variety of things we don't use or need anymore. The moving process is a wonderful opportunity to identify the pieces to keep—and what can be offered to friends and family or donated to charity. With less stuff to worry about, you're free to enjoy every new moment more fully.
Research best practices for downsizing: Families often struggle to figure out the best way to downsize a senior loved one's home. It can make the weeks and months leading up to a move more stressful than is necessary. Try researching online and asking friends for any advice they may have.
Recreate their familiar environment: While it might be tempting to sell your loved one's old furniture and start fresh, they'll likely settle in more quickly if their new environment looks and feels more like home. Make sure the furniture and household belongings they treasure most find a place in their new assisted living apartment.
Start getting involved: Don't wait until after your family member moves to encourage them to get involved in their new senior living community. In most cases, participating in life enrichment activities and community events before moving day is a better approach. Also ask the team members about periodically coming by for lunch or dinner so your loved one can meet and get to know fellow residents. This can also help ease their anxiety when moving day arrives.
Schedule family visitors: The first few weeks following a move can be a juggling act for families. While you might be tempted to visit all day every day for a while, doing so might keep your older loved one from getting involved and making new friends. On the other hand, you don't want them to feel abandoned. It might help to set up a schedule for when friends and family will visit. This ensures a steady stream of visitors while still encouraging your family member to get involved in new activities.
Plan a housewarming party: Another way to help ease the transition is by planning a party. It will give your senior loved one something to look forward to and a chance to show off their new home. Talk with the dining team members at your community to see if they can help arrange an event in the private dining room or bistro.
Anticipate the bumps in the road: Despite all your best efforts, there will be some bumps along the way. Things will go wrong. Some days will be emotional. Remind yourself and your senior loved one it's a normal part of this transition. As time goes by and your family member settles in, the good days will far outnumber the bad.
Most importantly, remember that you are not alone. If you have any questions, our experienced senior living counselors are happy to provide a listening ear and helpful advice.