Live Life to the Fullest
This is your time to do more of what you love, with good friends and dedicated team members who are there to make it happen.
Want to learn more about Memory Care at Sunrise?
If you're interested in learning more about life at Sunrise, just fill out the form and one of our senior living experts will be in touch within 24 hours.
Make sure to ask about joining us for a meal or event!
It's More Fun Here
What do you want to do today? Perfect a new yoga pose? Defend your trivia title? Visit that new museum? Grow something beautiful? Opportunities for all these and more await at Sunrise, where our Sunrise Live With Purpose™ programs make it easy to enjoy your life's passions and discover new joys.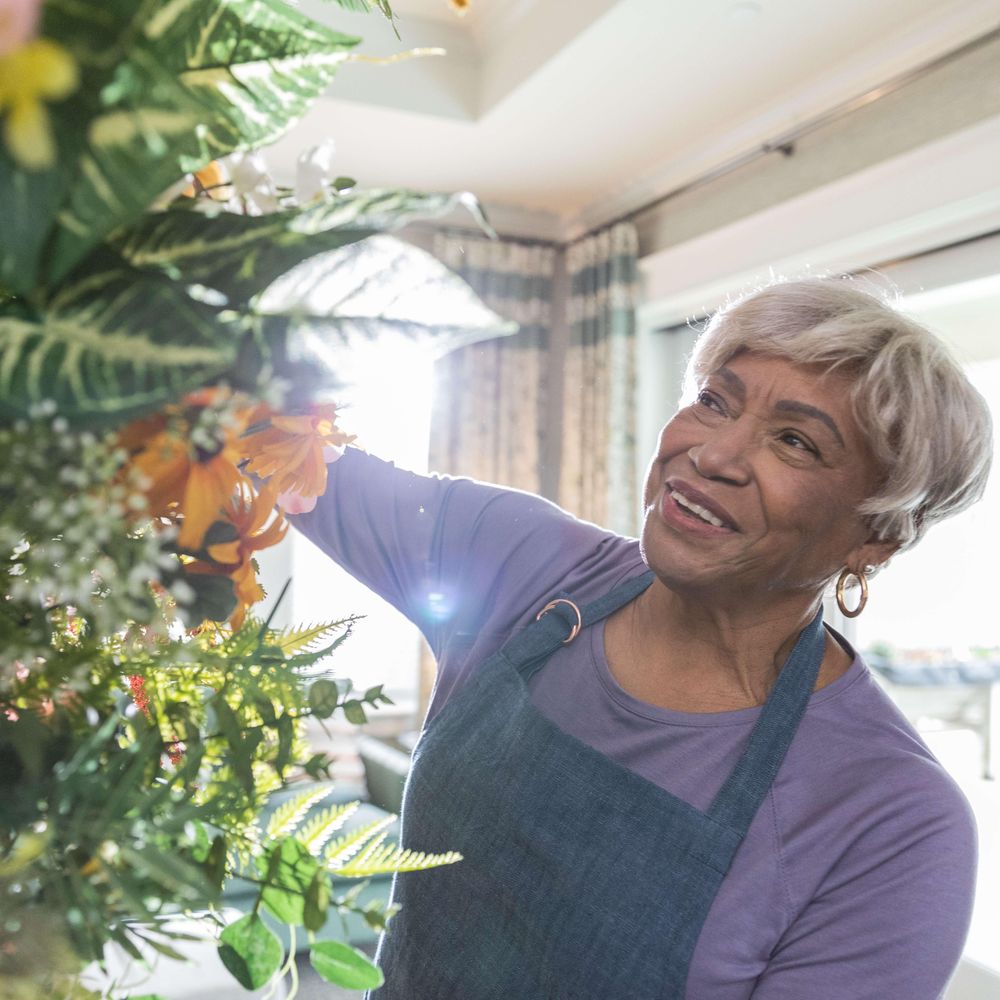 Get Involved, Your Way
Our communities are full of opportunities to thrive. But we can't tell you how to have fun—you need to tell us. Our offerings continue to grow and evolve based on the suggestions of our residents. So, choose from our list or add your own; our job is to make it possible.
You can choose from a long list of activities throughout our communities:
Fitness classes such as yoga and Tai Chi
Painting and art
Music and singing
Brain teasers like crossword puzzles, trivia, and word searches
Flower arranging
Outings to local attractions and culture
Reflection and meditation
Gardening
Games such as mahjong, canasta, cribbage, and bridge
We also offer religious and spiritual events, including church services, Shabbat candle lighting, and Bible study.
If there's something you love to do that we don't already offer, just let us know! Like any strong community, it's the contributions of our members that makes us special.
The personal attention, caring, and positive attitude provided by the staff have been great for my mother. She is the happiest she has been in years! The activities director and staff are so enthusiastic and creative.
Discover Sunrise Live With Purpose™
Our programs take a holistic approach to wellness and engagement, offering a wealth of options based on your interests and passions.
Live With Artistry

Express yourself through visual and fine arts, poetry, dance, and more.

Live With Learning

Continue to grow your knowledge and keep your mind sharp.

Live With Action

Get moving with and enjoy the benefits of exercise for both your body and mind.
The Joy of Music in Memory Care
Because there's such a strong connection between music and memory, we often incorporate music into our programs for residents living with Alzheimer's and other forms of dementia. Music therapy has been shown to help access long-term memories, ease symptoms of depression, and even reduce pain.