Dining Service Coordinator Jacob (Jake) knew growing up on a farm that being around food would always be in his future. What he didn't know was that his journey would take him from his childhood in Costa Rica's coffee region to Sunrise Senior Living of Livingston in New Jersey. There he would become an expert on a high-tech plant platform created by Babylon Micro-Farms.
"It's a whole different kind of gardening than I grew up with," said Chef Jake, who left Costa Rica at 15. The microfarm is for indoor use only and doesn't use soil but thrives on 30 gallons of water. The garden is about the size of a large vending machine and is part of the fast-growing controlled environment agriculture (CEA) industry that uses a technology-based approach to farming. The dining team can manage its five levels remotely via an app and onsite to grow leafy greens, flowers, and herbs.
The plants "graduate" to the next level as they germinate from seeds contained in a sponge-like pod to becoming fully edible. Team members insert the pods into level one and cover them for 8 to 10 days until sprouts appear. When they have roots, Jake and team insert them into a tray with holes for the roots on the next level, and so on.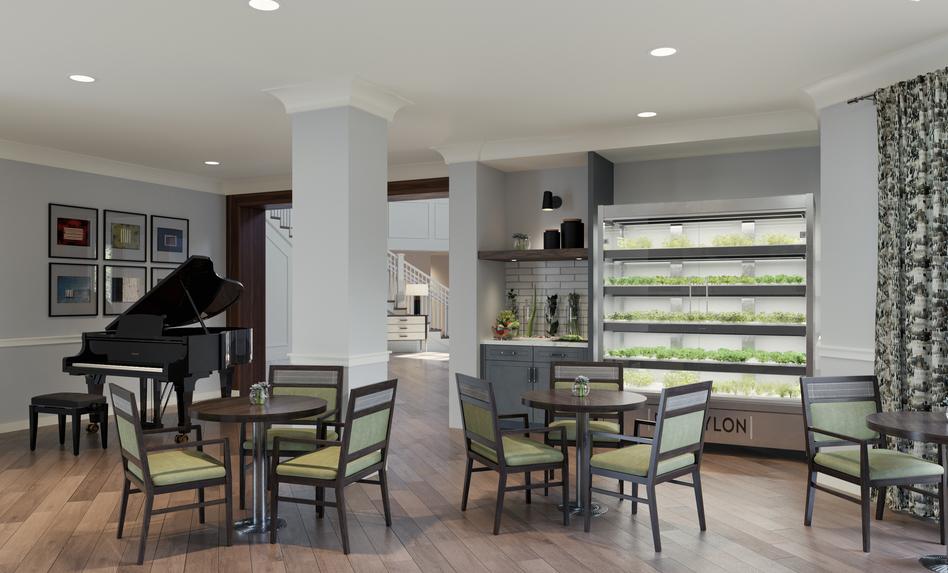 He enjoys the look of the farm's LED lights, bright white containers, green leafy vegetables, and herbs. "It's all very much in harmony," said Jake, who has been a Sunrise team member for six years. He's been with Livingston since August 2022 and helped prepare for its opening in February when it began welcoming up to 119 residents in assisted living and memory care neighborhoods.
Jake just reaped the microfarm's first harvest since it was installed at Livingston in December 2022. Hemade pesticide-free kale salads for about 40 diners who came to tour the community before its official opening. He also has been growing lettuce and herbs including basil, sage, and oregano to offer residents and family members fresh veggies year-round. "There's a big interest in farm-to-table dining in the Livingston area and beyond. I love that we can be a part of it, even in a more urban area," Jake said.
The system generates as much produce in 15 square feet as 2,000 square feet of traditional farmland, according to Babylon Micro-Farms. It also uses 96% less water and 65 % less fertilizer.
Jake plans on inviting residents to help plant a big batch of spinach and keep an eye on it during its approximately 7 weeks to reach mature growth. "I love the microfarm. It has a real purpose for the team members and residents – we all look forward to watching the plants grow," Jake said. "I can't wait until the residents move in, and we can celebrate what we planted. Every time they walk by, it will give them something to talk about and look forward to.