Want to know the secret to a long and happy marriage? Valentine's Day often leaves many of us hoping for a special someone to enjoy a long, happily-ever-after with. Marriage experts say everything from supporting each other's interests to being friends, learning how to forgive, and mastering good communication skills are essential to a successful partnership. Ask this question of Sunrise residents Joe and Josephine, however, and you'll hear a slightly different story.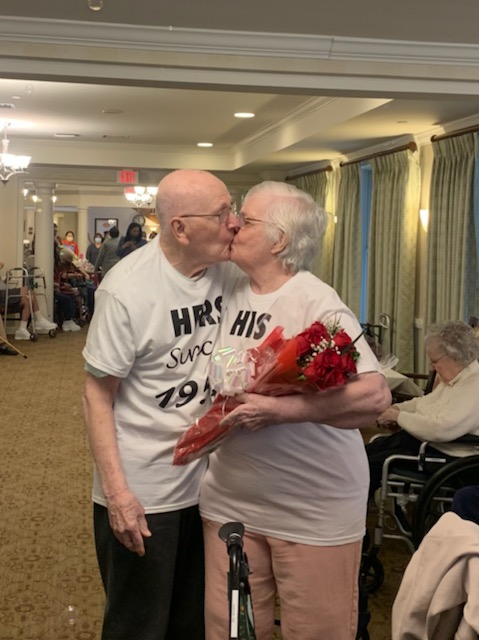 Secrets to a Happy Marriage
Joe and Josephine were married on March 24th, 1952 after he came home from Korea. The ceremony took place at a Methodist church over their respective lunch hours. They each went back to work after. While that might not seem like the most romantic start, the couple's 71-year-old marriage proves otherwise.
The pair met when Josephine was actually dating Joe's friend, Stephen. She was just 14 and Joe was 17. Stephen thought Josephine was beautiful and took her out to show off to his friends. When Joe and Josephine saw each other, it was love at first sight for both of them. She said she "dumped Stephen right away," and the couple began dating.
What was it that made them fall for each other so fast? Joe thought his future bride was beautiful and that she was a real "live wire." Josephine thought he was the best-looking boy she had ever seen, and was especially taken with his great hair. The fact that he was older was exciting to her too.
The couple say their proudest achievements as a couple are the birth of their two sons, Stephen and Tim, and being able to buy a brand-new house on Staten Island. The price tag for that house all those years ago? Just $13,000.
While Joe's job as an inspector for rubber for tires took him away from home a lot, he always made up for it with his family. They enjoyed spending time at a local swimming club and spending vacations at a trailer they kept in Pennsylvania.
Advice for Engaged Couples and Newlyweds
Joe and Josephine do have some great advice to share for those contemplating marriage and those already married. The first is to make sure you really love the person you are about to marry. That's the most important thing. Joe also says it's important to always trust and keep loving your spouse.
One funny story the couple shared could also be considered solid advice. That is, never surprise your spouse when they think you are out of town. Because Joe had to travel so much, one day he thought he would come home from a business trip early and surprise his wife. It almost didn't end well. Josephine got scared when she heard someone in their house. She picked up a riffle and almost shot him! Joe said that was the last time he ever surprised her by coming home early.
Enjoying Valentine's Day with a Senior Loved One
While not everyone has a love story like Joe and Josephine, there are many ways you can help an older adult who calls a senior living community home enjoy St. Valentine's Day. From playing Valentine's Bingo to baking tasty treats together, Celebrating a Senior Valentine in Assisted Living has some ideas you might like to explore!