Leslie Henry joined Sunrise of Granite Run in Media, Pennsylvania nearly eight years ago after her mother's passing inspired her to go back to school to earn another Bachelor's degree.

"I wanted to help people," she says with a contagious smile that reflects her genuineness.

Combining an impressive background in both nursing and sales, Leslie soon found her home at Sunrise and became an essential, well-respected member of the team. In her role as a Director of Sales, Leslie connected prospective residents and their families with Sunrise and showed them the high-quality care and lifestyle offerings her community could provide. She made friends and created memories, but never expected what would happen next.

"I knew something was wrong," she recalls solemnly. "And after the doctor told me, it… it didn't even resonate that it was real."

Leslie has been diagnosed with breast cancer, joining the nearly 300,000 women diagnosed with the disease every single year. And like so many, Leslie fell into a spiral of emotions ranging from disbelief and confusion, to anger and fear.

"I didn't want anyone to know," Leslie shares about the early days after her diagnosis. "And when I looked into support groups and Facebook communities, it was all doom and gloom. And I just couldn't do that. It was so depressing."

Feeling overwhelmed and alone, Leslie's friend connected with an organization based in West Chester, Pennsylvania, not too far from her, called Unite for HER.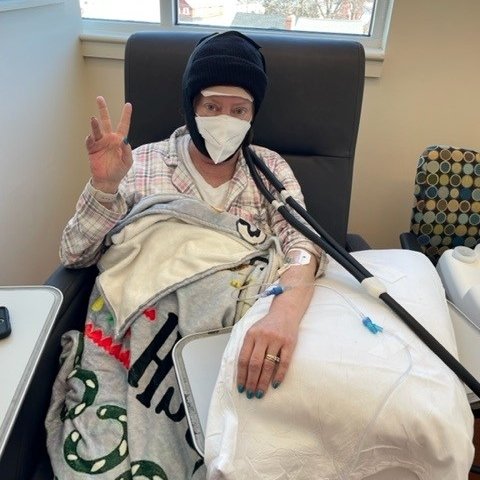 The nonprofit organization was developed by Sue Weldon following her own diagnosis with breast cancer in 2004. Like Leslie, Sue sought support but saw a significant gap in information on therapies that would complement the medical treatment. She was disheartened by the lack of easily accessible resources on topics like nutrition, acupuncture, massage, yoga, counseling, and other ways for breast cancer patients to enhance their wellness and care for their emotional, spiritual, and physical needs. Sue didn't want other individuals to feel as unsupported as she did, so she sprang into action, founding Unite for HER in 2009.

Today the organization has expanded its remit to include those diagnosed with breast and ovarian cancers, but their vision remains the same: to ensure that every person with breast and ovarian cancers will feel the support of a loving community, and will have access to comprehensive education, services, and tools that enrich their health and well-being.

"As soon as I was connected with Unite for HER, I felt immediately uplifted," Leslie recounts. "They don't only share resources, but they also share hope."

Leslie signed up for the Unite for HER Wellness Program, which is designed to provide integrative therapies and resources after diagnosis and throughout treatment as well as lifelong services to metastatic breast cancer patients and patients living with recurrent ovarian cancer. In addition to the live virtual educational events like HER Speaker Series and Ask the Experts, the key feature of the program is that it is delivered directly to patient homes via a HER care box which contains educational resources, healing and healthy self-care products, a Wellness Passport valued at $2,000 of integrative therapies and services at no personal cost. Leslie immediately saw the benefits of this program and wanted to see how her Sunrise community could get involved, too.

"Christine Persofsky, our regional director of sales, and I thought that this would be a great opportunity for our Live with Generosity program," Leslie said of the signature Sunrise program that supports Sunrise community participation in an ongoing community service project of their choice.

"After I felt more comfortable talking with people at the community about my story, I was amazed by how much support there was," she remembers. "Breast and ovarian cancers affect so many people, so many of our residents and their families directly and indirectly. We decided to get the whole region together to support Unite for HER."

On Wednesday, June 15, that idea became a reality. 12 Philadelphia-area Sunrise communities hosted their own volunteer events in which residents and team members assembled educational kits and cancer care packages for breast and ovarian cancer patients, representing a quarter of care boxes for cancer patients nationally who rely on the holistic services Unite for HER offers.

"We are so honored to support Leslie and inspired by her commitment and dedication to share the impactful work of Unite for HER with the Sunrise community of staff and residents," said Sue Weldon, founder and CEO of Unite for HER. "We provide integrative therapies and resources to patients across the nation and Sunrise is an example of strong corporate leadership that is dedicated to serve the community in which they work and live in."

And this is just the beginning, as these impressive 12 communities look forward to more opportunities to support Unite for HER in the future including sponsorship of a 5K walk this fall as well as a Wellness Retreat in the near future. The goal is for Sunrise to help Unite for HER reach more and more families as they continue to expand their reach nationally.

"I am so honored that Sunrise cares about this cause so much," Leslie reflects on what this partnership means to her. "I just know we're going to help so many people and that means the world to me."

As these 12 communities continue to Live with Generosity with Unite for HER, we are excited to share more stories of how our team members and residents are coming together to support the causes closest to their hearts. For more information about getting involved with Unite for HER, please visit their website, and to learn more about how you can join these12 communities' Live with Generosity efforts, please visit their websites below:


Sunrise of North Wales

Sunrise of Abington

Sunrise of Dresher

Sunrise of Lafayette Hill

Sunrise of Blue Bell

Sunrise of Granite Run

Sunrise of Westtown

Sunrise of Newtown Square

Sunrise of Exton
Sunrise of Paoli

Sunrise of Haverford

Sunrise of Lower Makefield